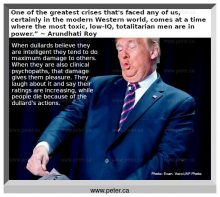 AMERICA!'s curse, the SATANIC! CUR! Donald Trump admitted to Washington Post editor Bob Woodward that he knowingly and strategically lied to AMERICA! to minimize the deadly threat to life that would menace and kill AMERICA!ns while misguiding them with assurance that CV-19 was no more threatening than the seasonal flu.
Before this is all over, hundreds of thousands of AMERICA!ns will be dead, stacked like cord wood in funeral pyres, their survivors wailing at the senseless carnage and howling for the execution of the monstrous genocidist Donald Trump who sent their families and friends to gruesome deaths for the sake of expediency and an edge on the 2020 elections.
Most all of them would be able to trace their infections to super-spreader events that transpired sometime during and after the period in which criminally insane murderer Donald Trump knowingly misled AMERICA!ns on the deadly consequences of exposing themselves to CV-19, planning orgies of hate (rallies), that would pack his crazed, soon dead and dying, adherents into stadiums and, in Tulsa, removed placards encouraging social distancing from stadium seats before the event.
Trump might has well have just machine gunned 180,000 Americans to death. Maybe he will yet.