Our Ukrainian Friend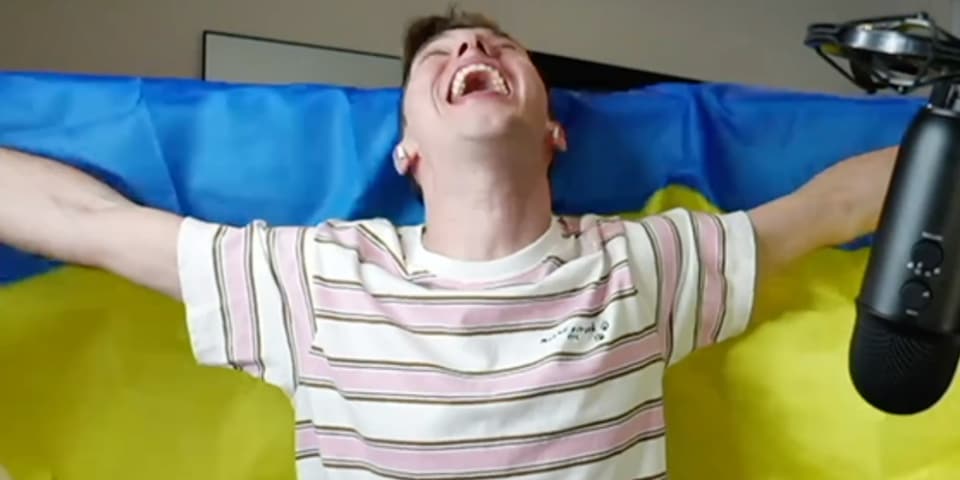 We've taken a deep interest in Russia's war on Ukraine, much deeper than we might otherwise be expected to, and for pretty much one reason:
We know a guy.
His name is Art. He grew up in Ukraine, the post-Soviet version. He's been in America five years now. And he happens to be a TikTok star.
Long story. All our stories are long. So's his.
Art's story begins in 1997, the day after New Year's — and six years after Ukrainian independence. Both his parents are around 20 at the time, typical for the area. His grandmother works odd jobs. His grandfather is a coal miner.
And right there, you need to know more. The five family members live in a three-room apartment in the Donetsk region, eastern Ukraine, near the Russian border — much nearer seventeen years later, when Putin launches his first war.
The town is Dobropillia, population around 72,000 at the time, down to almost a third of that now. Green and hilly from what we've seen, not unlike our own hometown in Oregon. Quite pleasant, to look at it. We can imagine growing up there.
Except for a few — very significant — differences. In the first couple decades of Ukraine's independence, emerging from generations of Soviet rule, everything is out of sorts. Money is scarce, leading to a desperate barter economy. The abruptness — and type — of regime change sows daily confusion.
That three-room apartment? Soviet worker housing for grandpa the coal miner. The family "owns" it now, but there's no paperwork to document the fact. Ukraine isn't just starting from scratch in 1991, it's climbing out of a deep hole.
And while Art's mom and grandparents are Ukrainian, Art's dad is Russian — and a bit of a flake. Early in Art's life, his dad goes to St. Petersburg to earn some money. He rarely returns, and eventually disappears entirely. Art's parents formally divorce when he's 10. Art will later learn he has a younger half-brother.
Despite all this context, Art's just a kid in those early years, a "happy pumpkin" as he describes it. There's no Internet available yet, and mobile phones are a luxury item, but the few channels on the family's 10-inch TV include Fox Kids. Little Art loves American cartoons. European and Russian, not so much. He'll later say he learned his English watching Friends.
There's another detail we need to include here: Art is gay. Says he's known since he was 5. Didn't have the language for it — not the word, not the concept, certainly not the role models in his community or culture — but he knew there was something different about himself that way, and it would play a significant role in leaving Ukraine when he graduated high school, and then arriving in America three years later.
The other significant event: Russia's first Ukraine invasion in 2014. Art's hometown is now fifty miles from the new, contested border. He had considered going to university in Moscow, but now his sights are set far in the other direction: to Poland.
This involves a few challenges. The family gets by, but they remain poor — Art's mom borrows a ton of money from friends to send Art off, with no obvious means to pay it back. And while Art already knows two languages — Ukrainian and Russian — he quickly needs to learn Polish.
And here's something you learn about Art real fast: He has a gift for language. His English is fluent — he's a chatterbox with an infectious Slavic accent — and while definite/indefinite articles don't seem to exist in his universe, man, does he have slang down. His English isn't what you learn in a classroom, but take in from your environment. Being monolingual ourself, we have to presume his Polish is similar — native speakers say he has an "eastern" accent, which geographically makes sense.
"Back to the story," to drop another Artism. Soon after he arrives in Warsaw, his mom migrates there, too — and the small living quarters get even smaller. They share a couch for a bed, but their work schedules allow different sleeping shifts. They both work multiple jobs, to pay for Art's college and send money back home. The enormous loans get paid off.
Art's grandparents stay behind, in Dobropillia. There are practical reasons involved, and while the Russians are still saber-rattling fifty miles away, there's a relative calm that settles in — for eight years, anyway. And as we've seen recently, Ukrainians have a thing about their land.
All this, and Art hasn't even arrived in America yet. That happens when he's 20. Graduates early, gets a summer job at a kite shop in a Maryland town — yet another story — and lands here in 2017 with $500 in his pocket.
Alone. Because of Trump-era limitations on immigrant travel, Art won't be able to see his mom again for another five years — until last week. They both flew to Amsterdam for the long-awaited reunion.
Once in America, Art's story becomes a modern version of the Immigrant's Tale: many restaurant jobs — in many cities. In five years, he moves from Maryland to Chicago to Los Angeles to Chicago (again) to Austin, and finally, to Manhattan.
West Village. Walking distance to the Stonewall Inn. Studio apartment in a centuries-old building. Modest but nice digs. Very expensive.
Which means, dear Reader, we've missed a step.
That would be the TikTok part.
Art may have known he's gay since he was 5, but that's not something you talked about growing up in Ukraine, nor going to college in Poland, and not even, for a few years, scratching out a living in America. Art's Maryland landlord — also gay — helped start him down the path out of the closet, but it wasn't until late 2020, about to turn 24, that he revealed himself to his friends.
Oh, and to his mom, too. Late-night call from Austin to Warsaw. Went well. Mom's cool. Not that surprised, really.
While Art is coming out, he starts a TikTok account. He gets some promising early attention, and while tossing around ideas with a friend, decides to film a short video of him getting out of a car with a rainbow flag.
Shirtless.
They film it on a cold Austin night in December. Art waits a few days before posting.
On Christmas morning. At 11 a.m.
Three hours later: half-million views.
Well, then! Give the public what they want!
And, in short order, he does: Not just TikTok, but Instagram, YouTube, Twitter — and Patreon. Spicy and naughty — and funny — but not nekkid. Art quits his restaurant job, later adds Facebook, Pinterest — and OnlyFans. He's now sharing his life online, and getting paid for it.
Oh, and a new podcast, too.
Last fall, on Facebook, we stumble across one of his short videos. And then more. And then over to YouTube for his longer work. We're fascinated: By his backstory, his current story — but really, by his talent. He's self-taught with all this, learning as he goes, and you can feel his intuitive sense for his medium, growing over time.
Art's a live one. We've known a few in our life.
And so we do what we always do when we encounter one: We start up a conversation.
Which is going full-steam by February 24, when Russia invades Ukraine. Again.
Art's grandparents died last year, and his mom is happy with her new life in Poland, but he still has friends back home, even if his home is now America, and he's able to follow the news in four languages — plus Russian social media, which is basically MAGA Facebook these days, full of bigotry and zealotry. We've been following English-language Ukrainian news sources since the (latest) war broke out, and Zelensky's sitcom for a satiric look at the political backstory, but it's Art who has provided us the deep context, the stuff you get only by knowing someone who's Been There.
Like, say, what Eurovision is really about. We sat through his five-hour marathon livestream watching the finals, entranced by the performances and his commentary. (Skip to 4:11:55 for the good part — the photo at top is when Ukraine is announced the winner.)
Ukraine itself is a fascinating country, deeply familiar yet significantly different, the pawn of empire yet fiercely independent, charmingly quirky to an American, yet not exotic. We don't know that we would have taken the interest we have without knowing Art. We only know that knowing Art, we're deeply invested in its success.
Oh, and his, too. Art brings that out in people.
My Story [Art Bezrukavenko]
Add a Comment
Please
log in
to post a comment