My Journey Into Manhood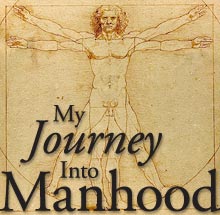 Ted Cox is a Sacramento writer who follows the gay "conversion" movement: Organizations that claim to "cure" gays of their homosexuality. This week we'll be running excerpts from his report of an undercover visit to a weekend retreat held near Phoenix last year. The entire article is available online.
I don't remember exactly when I felt his erection pressing into my back. It might have been while he whispered in my ear, "Long ago, you were the Golden Child. But, somehow, that Golden Child was hurt, and you put up a wall to protect yourself." Or it might have been when other men in the room broke out in song:
How could anyone ever tell you
That you're anything less than beautiful?
How could anyone ever tell you
That you're less than whole?
I sat on the floor between the outstretched legs of a camp guide, my head leaning back against his shoulder. The guide sat behind me, his arms wrapped around my chest. This hold was called "The Motorcycle." Five men surrounded the two of us, their hands resting gently on my arms, legs and chest.
There were about ten other groups like this sitting on the floor in the darkened room: one guide giving "healing-touch therapy" while the surrounding men rested their hands on the receiver. Some men were held in the Motorcycle position. Others were turned towards their guide, cradled the way a parent would hold a sobbing child who had just scraped her knee on the sidewalk.
In one corner of the room, a portable stereo played Shaina Noll's song. At one point, the staff members all sang out in unison, their voices filling the high walls of the camp lodge. Somewhere in the room, a man sobbed over the sound of the music.
It was the first night of "Journey into Manhood," a 48-hour weekend retreat designed to help gay men become straight. In that room, about fifty men — some thirty "Journeyers" and fifteen staff members — sat on the carpeted floor of a ranch lodge two hours outside of Phoenix, Arizona. Most of the men, except for a few of the staff members, struggled to overcome their attraction to other men.
Sometime during all that holding and touching and singing, while I was cradled in the Motorcycle position, I felt it: the unmistakable bulge pressing through his tight jeans. It was the first time in my life I had a felt another man's erection.
What the staff members and other Journeyers didn't know was that I was attending the weekend undercover. I'm straight. I'm also an atheist. By that February evening, I had been undercover in the so-called "ex-gay" movement for just over a year. Before signing up for the $650 JiM weekend, I had attended weekly support-group meetings and weekend conferences geared towards Christian men and women desperately trying to overcome their same-sex attractions. I am currently writing a book about my experiences posing as a same-sex attracted Christian man — "SSA man," in the lingo.
My motivation for undertaking this wild project stems from several factors. First, I was raised in the Mormon church, which has taken the lead against equal marriage rights for gays and lesbians. It's been ten years since I left Mormonism, and I feel a particular need to stand up against the church's well-funded opposition to marriage equality. (I wonder what Mormonism's polygamous founder, Joseph Smith, Jr., and his successor, Brigham Young, would say about the "Marriage = 1 Man + 1 Woman" bumper stickers slapped on so many Mormon minivans.)
Second, while the ex-gay movement has publicly declared that they can bring "freedom from homosexuality," there's no evidence that someone can change his or her orientation through these religiously motivated programs. Rather than turning straight, the men and women that I met throughout this project dealt with a cycle of repression, backsliding into sin, then shame, guilt, and repentance. These programs collect hundreds of thousands of dollars each year on a promise they can't deliver.
Third, these programs are dangerous. Ex-gay watchdog groups document the stories of men who, after years of failed attempts to become straight, resort to suicide. Later I'll introduce you to Eric, a fellow JiM attendee who would hook up with men on Craigslist and then go home to his unsuspecting wife. For many men in ex-gay programs, often their wives, friends, family, and church members have no idea they struggle with SSA.
What I saw and experienced at JiM both enraged and disturbed me. I had trouble staying in character as I watched one man, as part of his therapy, act out beating his father to death with a baseball bat — just one of several "Are you kidding?" moments. How anyone could believe that a JiM weekend could turn a man straight still baffles me.
To be fair, I had several positive experiences that weekend. I saw several men, some for the first time in their lives, lose the anxiety they feel about their sexual orientation. Up until that weekend, some of them had never told anyone about their struggle with SSA. In the course of the retreat, they would relax around other men who struggled the same way they did.
Journey into Manhood co-founder and "Certified Life Coach" Rich Wyler goes to great lengths to keep his techniques hidden from public scrutiny. Only after I had booked my non-refundable flight, and paid the non-refundable retreat deposit, was I informed that all Journeyers are required to sign a confidentiality agreement. Last year, when I attempted to write an article for Salt Lake City Weekly to run the week that Journey into Manhood arrived in Salt Lake City, Wyler complained to the paper, citing the confidentiality agreement I signed. 
While the article idea I pitched to SLC Weekly would discuss only publicly available information about Wyler and Journey into Manhood, SLC Weekly — citing insufficient time to run the piece past their legal department — pulled the article and interviewed me instead.
After that interview, I discussed the confidentiality agreement with attorneys, editors, journalists, and gay-rights activists. As a result of those discussions, I have decided to discuss in detail several aspects of the JiM weekend. The decision was not easy. But given what I experienced, the pain that many of these men feel, and the money that Wyler's organization takes from them, I feel obligated to speak out.
Tuesday: Arrival at camp.
Add a Comment
Please
log in
to post a comment