My Journey Into Manhood V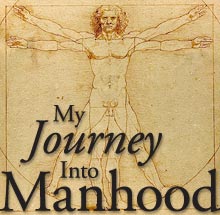 Ted Cox is a Sacramento writer who follows the gay "conversion" movement: Organizations that claim to "cure" gays of their homosexuality. This concludes our week of excerpts from his report of an undercover visit to a weekend retreat held near Phoenix last year. The entire article is available online.
Some details have been altered to protect the identities of participants.
My carpool piles into our vehicle and we cruise away down the road that, thanks to the rain, is slowly turning into slop. I turn on my cellphone, and as soon as I can get a signal, text friends and family that I am alive, safe, and headed for the airport.
"How was it?" they ask. The medium limits me to 140-character messages. I really don't know how to respond.
I should be asking the guys in my carpool what they thought of the weekend. I should be asking them what they experienced, and how it affected them. But I'm too tired to think about that. I haven't slept in two days.
What am I supposed to do with this experience? I signed a confidentiality agreement before participating, but how can anyone keep quiet about something this intense? How can I not tell my friends or family members what I saw or did? And what about the married men? How could they not tell their wives what they were doing all weekend?
I turn around to ask Tony, the guy who had attended "Journey into Manhood" years earlier, how the weekend was different this time around. He says that it was "pretty much" the same as he remembered, just a couple of minor differences.
Is the confidentiality agreement really about making the weekend more effective for Journeyers? I doubt it. Included in the information packet is a page urging us to return for a second or third weekend. "Sometimes a price discount is available for men who are going through the JiM weekend a second time," reads the flier.
We stop for dinner at the In-N-Out. Dave notices that I've become withdrawn from the conversation as I try to answer the barrage of text messages from my friends.
"I'm just tired, you know?" I respond.
"Yeah, man, me too." He smiles and puts an arm around me as we walk back out the car for the final leg toward the airport.
And then there's Dave. We have become friends during the weekend. I'm feeling guilty for lying to him, for betraying his trust.
At the curb of the terminal, I grab my bags and hug the guys. I worry about them and what will happen when they return home. If they're hoping they'll end up straight, I can't help but think they're in for a major disappointment.
Finally back in Sacramento, my friend Pauline, the self-described fag hag, picks me up from the airport and drives me to her favorite bar.
I spill my guts over a much-needed beer. "Oh my God," she says, over and over again between drags on her cigarette.
My phone buzzes. Looking at the caller ID, I sigh, tell my friend it's the call I'm expecting, and walk outside the coffee shop.
It's Dave. I'm not looking forward to this.
A week has passed since returning home from JiM. Several Journeyers have tried contacting me in the days since. Before leaving the retreat, staffers handed out thick packets of information, which besides promoting two more of JiM co-founder Rich Wyler's retreats and his telephone coaching service, urged us Journeyers to keep in touch with each other. There was also a check-in conference call, and an invitation to join a Yahoo! group. I decided not to participate in either of those. I felt like I had intruded enough into their lives.
I had also ignored all the calls and emails from the other Journeyers. Most of the men stopped after the first few tries. Dave, however, didn't give up.
He eventually emailed me: "Dude, I miss you… I hope you're doing well. I called you a couple of times. If I'm harassing you just let me know."
I wrote back: "I'm ok. I miss you, too. The thing is, I have something to tell you, and you're probably not going to like it. We should talk over the phone."
So now Dave was calling me, and this time I answered.
While pacing back and forth on the shop sidewalk, I tell Dave everything: how I'm a straight writer, how I was at JiM undercover.
"I knew it!" he says. "I knew something was off!" Apparently my explanation at JiM about my faith proved less than convincing. It seems, though, that Dave was suspicious of my religion, not my sexual orientation.
But that doesn't matter now: Dave is upset. He has every right to be.
"This is why I have this issue!" he groans. "I've had trouble trusting men. Now here we go again!"
I may have lied about my involvement, but I wasn't about to let him pin his issues on me. I go on the attack.
"C'mon, do you really think straight men go off into the woods and hold each other?" I demand. "What about that all-night holding session you told me about? Does that sound like something straight guys do?"
Surely he would see the absurdity of it all.
Silence on his end for a moment. Then, quietly: "I don't know, man. I don't know."
We end the call, and I walk back inside. I'm worried about how this will affect Dave. Dave is a stable guy, but what if word spreads among the Journeyers? How will they take it?
Dave calls back after a couple of hours. He is more composed, but he wants to know more about my motivation, about my stance on homosexuality.
I tell him that I think he's normal, and that professional, reputable psychological organizations agree. I tell him that biologists have observed homosexual behavior in hundreds of species. I doubt I get through to him. How much does science really matter when God has spoken?
And there's more to consider than just Dave's feelings. "What do you want me to do?" he asks. "Leave my wife? Leave my kids? Just go live with some guy?"
There's no easy choice for Dave. Either way, he loses something. Leaving a religious philosophy like Mormonism isn't as simple as changing underwear brands. Often your friends stop calling, and your family members stop inviting you to dinner. Sure, Dave could finally live out and proud, but at what cost?
"I don't know, man," was all I could say. "I don't know."
Add a Comment
Please
log in
to post a comment