Yes, folks.  Did you think I wouldn't come out of my undisclosed location to not celebrate the annual tradition of the Stinque Kentucky Derby Open Thread?  For shame.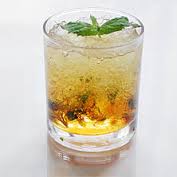 It's been busy here at Chicago Bureau World Headquarters.  Two solid months of writing, interrupted by (a) collapsing in a heap at the end of each work day, (b) hockey, and (c) getting a girlfriend.  But not so busy that the Derby fails to excite.
And it should be extra exciting this year, and not because of the copious amounts of bourbon used to make this refreshing drink here.  The reason for excitement is also cold and wet — the track.  Yes, we got a race in the SLOP!
This preview from the Guardian has video clips of the big names.  But 19 will run, so it's about impossible to pick.  Unless you talk to a seasoned handicapper.  Who will still be wrong.
Going chalk this year with my picks — Revolutionary and Orb in an exacta box.  We'll see.  But now — ALL RISE FOR THE DEGENERATE GAMBLER NATIONAL ANTHEM! (Doo-doo-doot doot doot, doot doot doot, doo-doo-doo-dooooot!)