My Kingdom For A Red Sox Republican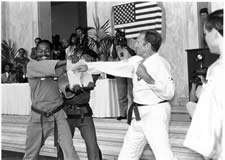 In the course of random thoughts about such things over the last few days, I came upon my memories of the way things used to be in, oh, the early 1990s.  The memories are fading, but it is still real close — the closing days of the analog epoch are totally foreign only to those who never lived in a world where the internet was not a ubiquitous presence.
In that age, we had Republicans like Warren Rudman, John Chafee, William Cohen and Jim Jeffords (pictured).  They shared two distinguishing characteristics.  One: they were from New England.  Two: they could actually THINK.
Now?  Maine (The Way Life Should Be) is no longer the state that gave us Olympia Snowe.  She has decided to hit the silk and jump from the GOP plane, in the wake of the wave that gave us the execrable Paul LePage.  Chris Shays is a vague memory.  New Hampshaah is knee-deep in Tea Party types — maybe not as Southern Fried as the rest of the cohort, but still a little bit nuts.  And Massachusetts may yet send Scott Brown back to the Senate.
Resolved: the House believes that the GOP will never go back to the days when sensible moderates were welcomed.  Floor's open.
(P.S.: I refuse to use the term "Yankee Republican."  It's an article of faith, you know.)
Add a Comment
Please
log in
to post a comment