From The Jaws Of Victory….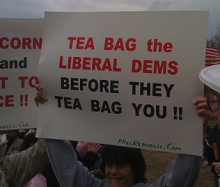 All right, all right.  We've all seen the opinions, and we've all seen the reactions.  Let's go to the heart of the matter.
HOW WILL THE DEMOCRATS SCREW THIS UP?
I mean, really. This is the M.O. of the Party of Jefferson.  (Who really must want to come back from the dead whenever the words "Party of Jefferson" are spoken aloud.  When he isn't seeking to haunt those running the University of Virginia into the ground, anyway.)  They'll come around in September and say — "hey, look: we want to get things done, but those GOP meanies won't let us. Because they're MEAN.  Elect us, and we will work with them. Promise. Cross our hearts and hope to die; stick some needles in our eyes!"
Bipartisanship is dead. The Republicans killed it.  Anybody betting that Black Eagle and the Dems figure that out before Columbus Day?  Anyone?
I didn't think so.
The comment box is open.  Tell me I'm wrong about this. Even though I'm not.
Add a Comment
Please
log in
to post a comment