Nightmare at the Museum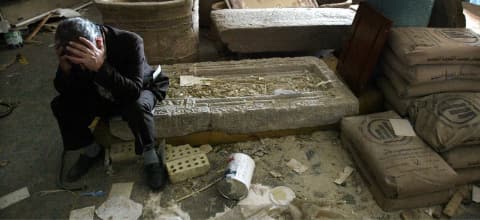 "If you're old," the tweet requested Thursday night, "please attach a link to your 2003 take on the invasion of Iraq to your 2020 take on Iran."
We are old, but we wouldn't be blogging for another five years, so we have no links to offer.
But we remember.
We remember the run-up, desperately seeking sources — mainly printed — that would see the situation clearly, not feeling rushed by the incessant we must invade now chants being issued by our nation's illegitimate leadership.
We remember the futility of opposition, our liberal leaders running scared that they wouldn't be seen as sufficiently willing to beat the shit out of anyone arbitrarily designated our enemy.
We remember the hubris, the certainty that we had but to snap our fingers — and drop a ton of bombs — to bend the world to our will.
We remember the night the bombs dropped, thinking don't fuck this up.
And we remember the museum.
The bombs dropped March 15, 2003. Combat was declared over — MISSION ACCOMPLISHED — five weeks later, on May 1.
The Iraq National Museum was looted April 10.
Our troops were in the neighborhood, fighting. Museum staff had protected what they could, moving smaller objects to the basement, covering larger items with foam and surrounding them with sandbags. But the looters were able to steal thousands of items — what they could walk out with — many since recovered, but not all, archaeological history vanishing into the chaotic streets.
Don't fuck this up, we thought the night the bombs dropped, and then we did, our country did, setting off consequences that continue to this day, compounded by how we've fucked up since.
On Saturday, Donald Trump, our illegitimate president du jour, tweeted a series of threats to Iran should they retaliate against his hubristic assassination of their military leader. ("We're America, Bitch" is how Jeffrey Goldberg summarized Trump's foreign policy last June.) Among these threats was a promise to target sites important to "the Iranian culture", much like the museum had been looted, or like the Taliban had dynamited the majestic Buddhas of Bamyan in 2001.
That's what you would expect of barbarians, which we have proven ourselves to be. We don't even pretend to be the world's civilizing force these days. We're just the world's biggest bully, destroying what we can when we can't have what we want.
Nothing new there. Trump's tweet threatened fifty-two sites, one for each American hostage held by Iranian militants forty years ago, militants who opposed the dictatorial rule of the Shah of Iran, installed after a coup overthrew Iran's elected government in 1953.
And who was behind that coup? The CIA was. We were.
Don't fuck this up, we thought in 2003, but we were already fifty years too late, the consequences have been spinning out for generations, and they'll continue spinning out for generations to come.
Add a Comment
Please
log in
to post a comment