A Modest Proposal (5673rd Ed.)
"Well, I think they should attack things like that…. with satire. I mean, Ned Sherrin.  Fair's fair. I think people should be able to make up their own minds for me." ["Pepperpot," Python, Monty; Book I, Chapter 5.]
Premises: Americans love violence. (See, e.g., Eastwood movies, Schwarzenegger movies, the NFL, the NHL (1917-2013), etc.)  Americans also love (a) guns and (b) sport.  (See id.)  Americans also love games of chance. (See, e.g., Powerball, Las Vegas, etc.)  Americans particularly love television shows where unknown people can theoretically win something. (See, e.g., game shows, reality TV, etc.)  Indeed, Americans love any television show on which one might appear (see, e.g., signs held up at sporting events where the broadcasting network's initials are featured); this holds even for shows on which people might not actually like to appear, but provide some sort of thrill anyway (see, e.g., "Cops," "The Maury Povich Show," etc.).  And Americans' love for things grows exponentially when combined.  (See, e.g., value meals, Reese's Peanut Butter Cups, etc.)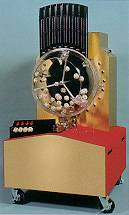 TOTALLY NECESSARY CONCLUSION: The next mass-shooting must be the subject of a nationwide lottery, so that the location, and the specific victims, are determined in advance — and so that said town, and said victims, can be made the subject of a reality television series in the run-up to the actual tragedy, and the subject of post-event television specials, telethons, and all other kinds of opportunities to be on television, in ways that will allow the maximum amount of public sympathy to result, and that will allow the maximum number of people to royally cash in.

The benefits are obvious. But they are explained anyway, after the jump.
The lucky town is going to get a whole truckload of fabulous prizes.  You get an outpouring of support from average Americans who can't be bothered to solve the problem (much less focus on it a week later), and from politicians whose job it is to solve the problem (which never gets done because you can't get 41 senators to agree, even on what time it is).  You get to see the President, too, which is always fun.  You'll get a nice declaration of sympathy from Congress (suitable for framing) and a terse press release from the National Rifle Association (also suitable for framing). Oh, and wacky neighbors from Topeka who wave "GOD HATES FAGS" signs at your loved ones' funerals, for no apparent reason, will stop by.  (Because it adds tension, that's why!  Tension equals ratings!)  And complete strangers will point at strawmen (video games, the music industry, the entertainment industry writ large, bans on prayer in public schools, etc. etc.) and blame said strawmen on cable for two weeks before they, too, get bored and go on to the next big thing.  But you're the focus of the news media for TWO WHOLE WEEKS.  Score!
The best part?  The survivors — you get the greatest prize EVER.  You get to say goodbye to your loved ones, and tell them that you love them, well in advance of their horrific demise.  You get to tie up loose ends and — just maybe — break down any emotional walls (particularly useful for middle-aged men who never get around to telling their fathers that they love them) just before the unthinkable happens.
I'm all for this idea.  Particularly because I got the copyright Friday night.  Hence: as long as we are NEVER GOING TO SOLVE THE DAMNED PROBLEM BY DOING SOMETHING TANGIBLE TO STOP THIS NONSENSE FROM EVER HAPPENING AGAIN, somebody's gotta make a buck.  And there's no reason why that shouldn't be me.  It's the American way, you know.
[Eleventy billion apologies to Dr. Swift.  Even though he's dead.]
Add a Comment
Please
log in
to post a comment