The Blood of Innocents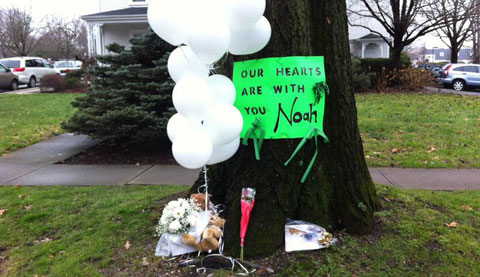 Our guest columnist manages to go 681 words without mentioning "well-regulated".
It is easy, and in moments of despair such as Friday quite understandable, to scream "more" to gun control, "more" to the morass of airport-style security that is spreading its way across our institutions, "more" to the diagnosis and institutionalization of the mentally ill. But it is much harder to write the laws that would have guaranteed Adam Lanza could never find a gun, or enter a school by force, or go without what diagnosis, treatment, and supervision he might have needed. And hardest of all to write them in such a way that the republic we'd be left with would still look like America in the ways we value most.
This is not so say such laws cannot or should not be written — in the field of mental health, in particular, we think there are commonsense reforms that might make tragedies such as Newtown less likely — but merely to caution humility and care in their crafting.
The need for humility is especially acute in the case of gun control. The irreducible challenge the Second Amendment poses to gun restrictionists is that it does not bestow upon the people a right they previously lacked. It proscribes the government from infringing upon a right the people already have. It is not that the people are allowed to arm. It is that the government is disallowed to disarm them…
On Friday, the president promised "meaningful action to prevent more tragedies like this, regardless of the politics." We doubt that something like this is possible, in a way consistent with the principle and the fact of the Second Amendment. If the possibility of terrors like Newtown is a reminder of why we need politics, their reality is a reminder that politics can do only so much.
Add a Comment
Please
log in
to post a comment