The Reckoning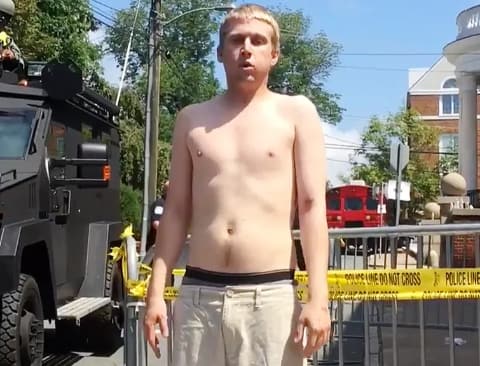 You could feel the ground shifting Wednesday afternoon. Something was different. Something had changed. Wherever this was going, there was no going back.
There would be consequences. Maybe not the kind we'd like, maybe not as soon as we'd like, but consequences nevertheless. Whatever the future was going to be, it would be something else now. The future would now be something that included this in the past.
The warnings had come true. Warnings for years, decades, generations. Warnings that if you kept looking the other way, kept letting things slide, kept letting them have their heads, kept moving on, this — this! — would happen.
And then it did.
This is what happens when there is no consequence. This is what happens when actions lack reaction. This is what happens when you create a world where anything goes, where excuses and reasons prevail for doing nothing, where civility is used to undermine civil society.
This is what happens when you don't push back. The bullies just get more bold.
Wednesday afternoon, as our mind was racing to keep up with events, one consequence was clear: If you had not been opposed to all this, opposed from the start, you would be seen as part of it. You would be seen as a conspirator, at the very least an enabler. You let this happen. You didn't speak up, speak out, speak against. You cheered them on. You should have known better.
2022, 2024, and beyond. You. You you you you you. That was the future that was changing that afternoon, a future where the result of the rhetoric was now clear for all to see, a future where the speakers would be held accountable for what they spoken. Not by everyone — that would be a fantasy — but by enough. You did this.
The mantle of Trump would no longer be something to seek, but something to avoid. The opportunists who had clambered aboard the train were already stampeding off, all of them the kid from the Charlottesville riot, running away and pulling off his identifying shirt when things got too hot. It was no longer a no-risk decision to join in, to cheer on from the podium. You might get blamed for this.
That much was clear Wednesday afternoon, as the Capitol Insurrection — the attempted coup we had been warned about — was taking place. That consequence was set. Other consequences were yet to be revealed. How many shoes would drop? Who would finally take this shit seriously?
We had thought this coming week would be about impeachment, Donald Trump's second impeachment for actions taken against the Constitution of the United States. We had thought that would be the story, not just some backbenchers bitching, but Nancy and Chuck actually being pissed, taking action, not from political calculation, but from practical necessity.
We had thought that right up until the geeks stepped in.
Facebook, then Twitter, banned Trump from their services. Apple and Google removed Twitter alternative Parler from their app stoes. The killing blow came Saturday night, when Amazon told Parler to get the hell off its cloud. That was the guts of the operation: the database, file storage, programming. Poof! All gone.
Donald Trump, who had relished his follower count in the tens of millions only hours before, was suddenly a man without a megaphone. So were many of his minions, the lackeys and schemers. The geeks had settled all family business.
It's all still playing out, and will for weeks to come. Weeks, months, years. Shit happened, shit changed, and now we're seeing the reckoning, the reckoning for years of Trump, the reckoning for decades of conservative lies that led to Trump, that enabled his rise and secured his power for sake of advantage.
Bullshit is being called. Bullshitters are being called out. Where were you when it counted? Where were you when it mattered? What did you do during the war, not after it?
Insurrections Have Consequences, someone brighter than us said last week. It was all fun and games until somebody got hurt. And now there's no going back.
Add a Comment
Please
log in
to post a comment