OPEN THREAD XLVII
Your erstwhile correspondent has had a bit of trouble picking this grand event of Sport — this celebration of violence and committee meetings.  And like most things for me, it's ruled by emotions.  How can you pick a Harbaugh over a Harbaugh? (It's hard.  Yes — Jim led Tree out of the darkness. But John has the same DNA.  Tough.)  How can you root for a team from San Francisco (OF ALL PLACES) who carries a player who's one carefully-worded press release away from throwing in with the Bryan Fischers of the world?  Swirling controversy over Ray Lewis (swirled by those who couldn't bother to swirl the controversy that he mighta killed a guy thirteen years ago until, oh, about two months ago) continues to swirl.  It's a stumper. (Both the game and the Lewis thing.  As you know, I'd prefer to just teach the controversy.)
But: time to decide.  How to do it?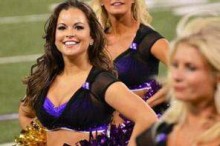 Meet Courtney Lenz.  (Hi, Courtney!)  She's 23, and a five-year veteran of the Ravens' cheerleader squad.  But she didn't make the trip to New Orleans.  Why?  Because over the course of four months, SHE GAINED TWO POUNDS.  And so Courtney — who, at a former stomping grounds of ours, would be described as either HOTT or HAWT — is grabbing some couch like the rest of us slobs.
That tears it.  Take the Niners (-3.5) with the points.  It's Chicago Bureau's world famous, often imitated, never duplicated 10,000 STAR LOCK.  And with that, the liveblogish OPEN THREAD XLVII is all yours for the commenting. Ready? BREAK!
Add a Comment
Please
log in
to post a comment