Sean Hannity's Pet Nazi Convicted for Threatening to Murder Three Jurists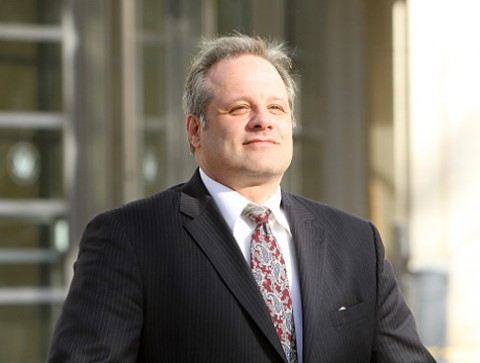 Neonazi hatecaster and Sean Hannity fascist circle-jerk partner Hal Turner was convicted Friday of threatening three federal judges who ruled to uphold handgun bans in Chicago and Oak Park, Illinois last year, earning him a sentence of up to 10 years during which Stinque.com hopes this monstrous freak is stomped to death by authentic neonazi murderers.
Two trials were scrubbed last year due to, first, a deadlocked jury and then a mistrial declaration by a judge. Prosecutors accused this freak of writing on his website in June 2009, "Let me be the first to say this plainly: These Judges deserve to be killed." Accompanying this recommendation for his fans who could read were photographs, phone numbers and work addresses for the judges, clearly targeting data for psychopaths.
A righteously resolute jury took just two hours to convict this monstrous piece of shit of threatening to kill three federal judges. His mommy complained the first amendment had been destroyed by the conviction and his kid had the good fortune of seeing his dad dragged off and will hopefully never have to endure this nazi's twisted presence again.
During the trial, Turner tried to pass off his threats as inspired prose vetted and approved of by the FBI who hired this piece of shit as a snitch to inform on the neonazi and white supremacist movements, a consulting contract that should make Turner very popular in the federal penitentiary. Mid-trial, the fucking idiot also tried to extort an FBI agent, threatening to expose him as a perjurer and destroy his law enforcement career. Stupid fuck.
It may be true that the agents tutored him on boundaries of protected speech but, as taxpayers, we at Stinque.com hope the FBI made sure fuckface went clearly and unambiguously over the line so this piece of shit could be fitted for a wedding gown and be shipped off to a federal penitentiary for inmate entertainment. Any asshole who would take a federal agent at face value and think he is not being gamed twice sideways deserves to be stomped to death by neonazi murderers in a federal penitentiary.
The unindicted co-conspirator Sean Hannity is still, however, at large. Hannity used his radio talk show in the late 1990s to propagate Turner's psychonazi ravings, raise his profile and to spew the kind of psychopathic nazi rage and hatred that Hannity wanted to cultivate. By the time Hannity's brand began maturing, in the early naughts, and Hannity's TV show, Hannity and Colmes (with pathetic stage-liberal posing as battered wife Alan Colmes) began establishing itself as a ratings leader, according to a 2005 report by The Nation, even crypto-nazi Hannity had to distance himself from Turner and stopped taking his calls on the radio program.
By that time, though, Turner had been emboldened apparently by his brush with a ratings icon like Hannity, to start his own shortwave hatecast, according to The Nation's 2005 report on Hannity and Turner's courtship. Who knows what kind of inspiration Hannity provided for a small-town fucktard nazi like Turner who was otherwise only qualified to clean the assholes of mange-stricken dogs at animal shelters with his tongue? Good question for the FBI to ask that piece of shit Hannity, if the bureau hasn't already.
Justice Department officials take note that Stinque.com recommends Turner be subject to the full ten-year sentence because he is a monstrous freak who deserves to die a grim and inglorious death in prison and because he fucked with with this august website. Stinque.com denizens may remember, Turner visited the site to respond to a report about Hannity's website poll asking about readers preferences for revolution: a military coup, armed rebellion, or war for secession last year. Here's the note from fuckface:
Hal, clue: there's isn't going to be a time to take care of anything. You know why, asshole? Because you're a stupid fucking nazi that believed what the FBI told you, ratted out your compatriots and got sucked into a set-up that Helen Keller could have spotted in her sleep from 1200 miles away and you will soon be in jail where real live nazi serial killers will rape you to fucking death and behead you for lunchtime entertainment. Think of Stinque.com when the first boot smashes your front teeth down your fat fucking throat.
Add a Comment
Please
log in
to post a comment