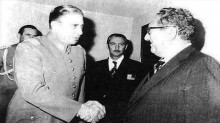 TSA agents at LaGuardia were spotted last Friday giving the "Full Monty Patdown" (whatever the fuck that means) to notorious war criminal Henry Kissinger, as he sat in a wheelchair at security. Apparently none of the 9 buck an hour rent-a-cops recognized him or knew who he was, even after he told them who he was.
Boo-fucking-hoo.
BWAAAAAAAAAAAA-HAAAAA-HHHHAAAAA!
It won't make up for the thousands murdered in Cambodia, Vietnam, or Chile, but it's a start.