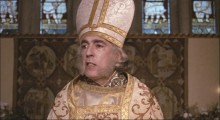 Anyway.  If you're up watching this crap from Merrie Old, feel free to vent here.
I will say this: the quality of media coverage of this was not unexpected, yet is still shocking.  The buy-in is total.  Only with an event like this can you have somebody bringing trees inside a church for a wedding, and have talking heads come across and say that they were going for "sustainable" rather than "absurdly decadent."
And yet the media are shoveling this into their mouths as if it were oatmeal on a cold, winter morn.  And so are the great unwashed masses, lining the Mall with fake plastic crap on their heads, and lining up at the buffets at street parties with fake plastic crap on their heads (perhaps with feathers sticking out or something).
Really. When the President rolls by (whoever it is, however you feel about the guy), we either wave and shout a little bit, or flip him off and shout a little louder.  When they see the Queen rolling (or, in this case, kids who won't be King and Queen for at least 40 years), everybody acts like they're back in the first grade.
No (more) official commentary from me.  Your observations, as events (finally) unfold, in the comments box, please.