Blowed Up REAL Good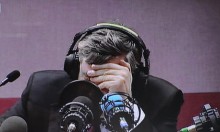 Oh, Gordon Brown.  Dude's rumored to have a bit of a temper.  But the pain, the shame of saying what you really think with a live microphone still attached to your shirt:
Here's what happened. Brown was in Rochdale doing a television interview about the deficit. As he was speaking, a woman called Gillian Duffy, a 65-year-old Labour voter, heckled him about the subject.He engaged her in conversation and they had a rather awkward chat that was filmed live on TV. It was a bit excruciating – mainly because she seemed to be criticising him for everything – but eventually she said local schools were getting better.

Brown tried to joke about her wearing the right colour, red, but that did not seem to go down well. He was still trying to speak to her as she was walking away. That was all I saw. It struck me as a fairly typical "politician meets grumpy voters" moment.

But Brown then got into his car, still wearing the television microphone. Apparently, he was recorded saying that the encounter had been a disaster and that she was a "bigoted woman". Short of doing a Prescott and punching someone [in re John Prescott, a Labour minister that actually did such a thing once], that's about as bad as it gets.

Brown is on Radio 2 now. The "bigoted woman" remark has not been mentioned yet. But he sounds extraordinarily tetchy.
One: "Tetchy?"  God help us.
Two: I'm sure that some candidate after a campaign stop in — say — Arizona might be wont to say something just like that, out of principle.  But to do it a week before the polls?  YIKES.
This is running up every flagpole on (what used to be) Fleet Street, which is deeming it at the moment as an earthshaking disaster.  The Guardian liveblog (here) has more.  So far?  A posting of the Channel 4 tape (complete with the hot microphone), a non-apology apology on BBC Radio 2, followed by a call to the woman to actually apologize, and then a DRIVE BACK TO HER PLACE to apologize in person.  But also: opposition parties cautiously trying to retain their glee, followed by a suggestion that the woman may be — OH DEAR — the Brit's version of Joe the Plumber.
Add a Comment
Please
log in
to post a comment