Our Right Wing Nutjob is Hotter Than Your Right Wing Nutjob
Ladies and gentlemen, your foreign correspondent brings you good tidings from Il Bel Paese – and I introduce you to our very own hot mess right wing nutjob, Mara Carfagna!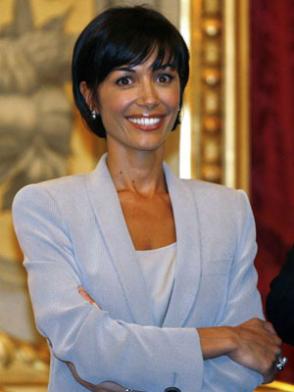 Adorable, isn't she?  Yeah, she sucks; I'll tell you why in a minute. But lest you think I'm grasping at straws to make the "hottie" comparison, join me after the jump for a photo from her previous career.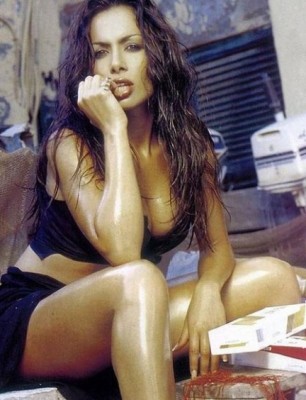 You see, the Minister of Equal Opportunity used to be a show girl. In fact, only five short years ago, before she cut her hair in order to appeal to housewives and old people, much of her was already quite well known among the more discerning fans of year-end nudie "sexy calendars," as they're called here.
La Carfagna, who shockingly is only beautiful enough to have placed sixth in 1997's Miss Italia beauty pageant, went on to have an illustrious six-year career in television, specifically as an employee of Mediaset – owned by – wait for it – a Mr. Silvio Berlusconi.  The shows she hosted are of a kind that's hard to explain if you don't live here: Imagine if Tom Jones and Carmen Electra hosted an Oprah-style talk show, in the middle of which they would break into song and dancing girls come out and shake their asses at the camera, after which there would be a packaged tear-jerker piece about someone who'd lost their legs in a tram accident.  These three-hour-long spectacles are on during Sunday lunchtime.
After entering into politics in 2004, she was tapped (heh) in May of 2008 to fight for the rights of the downtrodden and ignored as the Minister of Equal Opportunity.  Since then, she has done/said/fucked up the following things:
1. She and Berlusconi were heard on a wiretap talking about blowjobs.
2. She believes that feminism has made women (mistakenly) believe that freedom comes from independence.  She instead believes that true freedom comes from discipline and rules. One can only imagine how she came to this conclusion.
3. She has stated that gays don't need a Gay Pride parade/protest, because they no longer are discriminated against. Even though she refuses to consider gay marriage or even civil unions, as she instead is fighting for matrimonial rights to be based solely on the ability of the couple in question to reproduce.
4. In a televised interview defending her statement above, she called Rome the capital of Catholicism. While this is technically untrue, as the Vatican City state is the capital of Catholicism, she also apparently forgot it's actually the capital of FREAKING ITALY.
5. In introducing an anti-prostitution bill, she called the world's oldest profession "a shameful phenomenon" and said she doesn't "understand how someone can sell their body… for money."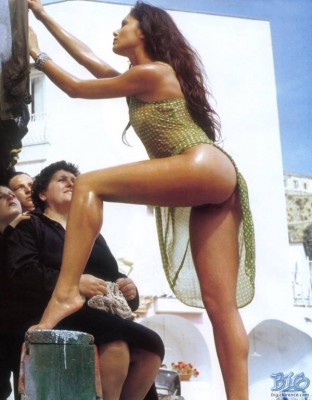 Really, honey? No idea at all?
Add a Comment
Please
log in
to post a comment