Let The Death Watch Begin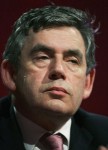 Oh, sad Gordon Brown. About to get relieved of his pants in elections for the European Parliament tomorrow — with dissatisfaction so rampant that xenophobic clowns from the British National Party are in with a chance to scoop a seat.  Cabinet ministers quitting left and right — with the Chancellor about ready to walk the plank next.  The backbenches in more-or-less open revolt.
Technically speaking, Labour could hang on for another year.  But the stain of self-serving pols on the take has just about set.  Things could change if the economy turns around in a hurry, but … stick a fork in him, methinks.
Add a Comment
Please
log in
to post a comment