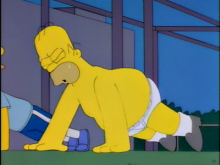 Not one, but two political stories involving running:
California Governor Jerry Brown was not thrilled with Chris Christie's "old retread" insult at the Republican National Convention, and challenged Christie to a fitness contest.
"There's nothing wrong with being a little retread. I don't have as much hair, and I'm slowed down a little bit, but I've got to tell you, I ran three miles in 29 minutes two nights ago. I hereby challenge Gov. Christie to a three-mile race, a push-up contest, a chin-up contest," Brown said. "And whatever he wants to bet, I have no doubt of the outcome."
I so have my money on Moonbeam.  I'm so confident in him that I'd bet R-Money $10 K on it.