Lite Guv Douche (Pronounced Doo-Shay?)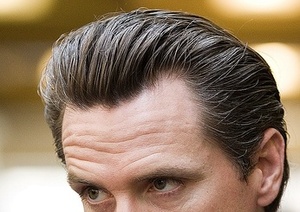 Former Ess Eff Mayor and current California Lieutenant Governor Gavin Newsom apparently has enough time on his hands (and product on his hair) that he doesn't need to actually be in the state's capital to do his job. As my fellow Kalifornication resident DodgerBlue as my witness, I regularly refer to the capital of Our Nation's Largest State as "Excremento" – nonetheless, if you are elected to the second highest statewide office, is it really too much to ask that you spend more than one day a week in the capital city?
Apparently if you have a do-nothing job that gives you time for gelling your hair on your new tee-vee show (on Current-TV? Bwaa ha ha ha!), spurning the use of the offices that are given to you in the state office building in San Francisco in lieu of having the State pay more money so  you can hang out at a dot-com two blocks from the baseball stadium and one of the restaurants you own, and commuting from the home in Marin County you moved to days after your term as mayor ended, then yes, it is way too hard to get on State Route 37 between Novato and Vallejo, and then on to Sac, because to be working more than one day a week in Sac is like, oh my Gawd, so UGH! How am I ever going to get back to the bars on Chestnut Street in time for happy hour with my bros from my Santa Clara U. frat, even with the CHP escorting me and taking the toll roads all the way on I-80?  You know I'll so get caught up in that clusterfuck of traffic between Hercules and Berkeley.
Ugh, God! Maybe it's better that I never go to my office.
Or rather, to quote Mayor Lite Guv. Good Hair directly about having to go to Sacramento for his FUCKING JOB THAT SENT HIM THERE:
"Sadly, I just, UGH, God!"
I am so looking forward to watching Kamala Harris wipe the dance floor with his idiot ass in the next Governor's race. Oh Gavin, how you are the Rick Perry of the Democratic Party. At least you're not allegedly shooting critters while jogging.
Yet.
Add a Comment
Please
log in
to post a comment