OhPleaseOhPleaseOhPlease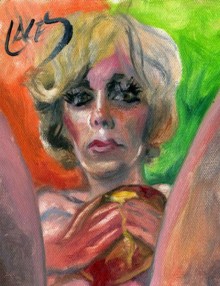 From the Department of Oh My Fucking Flying Spaghetti Monster Please Pass the Popcorn:
A novel California primary that premieres Tuesday was intended to produce moderates, but in California's U.S. Senate race, it could yield a challenger who claims President Obama was born in Kenya.

Incumbent Democratic Sen. Dianne Feinstein, 78, running for a fourth full term, faces 23 challengers, including 14 Republicans, the best known of whom is litigious Orange County "birther" Orly Taitz, a Russian Israeli emigre who has appeared on national television with her claims that Obama faked his birth certificate.

Polls taken by robocalls, including those commissioned by Taitz, show Feinstein with a wide lead, trailed by a strange assortment of single-digit rivals, in some cases led by Taitz. Whoever finishes second Tuesday, from any party, wins the chance to take on Feinstein in November.
What do you think, Stinquers? Should the California Stinquers all cast their votes for Orly tomorrow just to fuck with the GOP?
Add a Comment
Please
log in
to post a comment