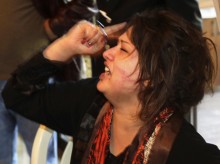 Two days after she was dragged away from Western reporters when trying to tell them about being gang-raped by at least 15 of Gadhafi's troops, Iman al-Obeidi has not been seen in public.  Her parents told al-Jazeera today that al-Obeidi is being held hostage at Gadhafi's Tripoli headquarters, as some sort of human shield. They also said that they were told to urge their daughter to retract the rape charge, or else she would not be released.  Government officials had claimed that she had been released.
Al-Obeidi's parents also denounced the latest claim of the Libyan spokesperson (who previously said al-Obeidi was drunk and mentally ill) that their daughter is a prostitute.  Musa Ibrahim told reporters today that "This is her line of work.  She knows the boys for years. She goes out with them for business. She has a whole file of petty theft and prostitution."
Al-Obeidi's mother told Al-Jazeera that she was not ashamed of her daughter admitting to the entire world that she had been raped. "I don't feel ashamed, instead my head is up high," she said, adding that her daughter "broke the barrier that no other man could break" by coming forward about her rape.  Al-Jazeera also has an interview with doctors in eastern Egypt who said that they are finding Viagra pills and used condoms in the pockets of dead soldiers, evidence that rape is being used by the troops to terrorize civilians.  Video of mom's interview after the jump.