WTF?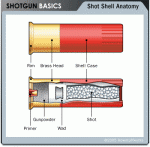 Yeah, body scanners will solve all our problems:
(AP) A passenger inadvertently carried shotgun shells onto a Dallas-bound Midwest Airlines plane at Milwaukee's airport on Monday before he realized his mistake and alerted flight attendants, authorities said.

The man, who was not identified, did not mean any harm, saying he had forgotten that the ammunition was in his carryon bags when he boarded the flight, Transportation Security Administration spokesman Jim Fotenos said.
An MSNBC report said that the passengers were upset that the TSA didn't search the plane before it took off in case the man had secreted something.
And I just love this bit:
[A spokesman] said the TSA is reviewing how the passenger got the ammunition through pre-boarding security searches. He declined to identify the man or comment further. TSA policy prohibits passengers from having firearms or ammunition in their carryon luggage.
And Senator DeMint doesn't want to pay TSA screeners too much – then we might attract better recuits that could find fucking shotgun shells. Idiot.
Add a Comment
Please
log in
to post a comment