Meanwhile, Back in America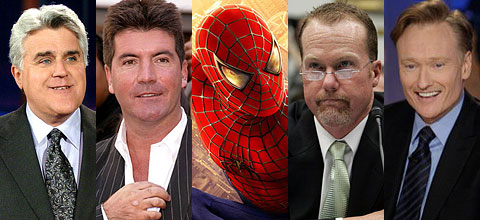 We'd like to take this moment to observe that neither Democrats, Republicans, Progressives, nor Teabaggers — nay, even Sarah Palin — have a finger on the pulse of the nation. Otherwise they all would have been talking about something else yesterday.
Update: Conan quits. Sort of.
People of Earth…

For 60 years the Tonight Show has aired immediately following the late local news. I sincerely believe that delaying the Tonight Show into the next day to accommodate another comedy program will seriously damage what I consider to be the greatest franchise in the history of broadcasting. The Tonight Show at 12:05 simply isn't the Tonight Show…

So it has come to this: I cannot express in words how much I enjoy hosting this program and what an enormous personal disappointment it is for me to consider losing it. My staff and I have worked unbelievably hard and we are very proud of our contribution to the legacy of The Tonight Show. But I cannot participate in what I honestly believe is its destruction…

Have a great day and, for the record, I am truly sorry about my hair; it's always been that way.
So, will he move to Fox? Conan says no offers are on the table.
Update II: TMZ (which broke the original news last week) is reporting that Leno will again host a one-hour Tonight Show, while it's "increasingly likely" (read: unsourced gossip) that Conan will move to Fox at 11 p.m.
Add a Comment
Please
log in
to post a comment