BP's Oil is Spreading Like Santorum
Break out your martini shaker and/or your bottle of Xanax, as Stinquer DodgerBlue shares with us this satellite image of close to the entire Gulf of Mexico coated with oil.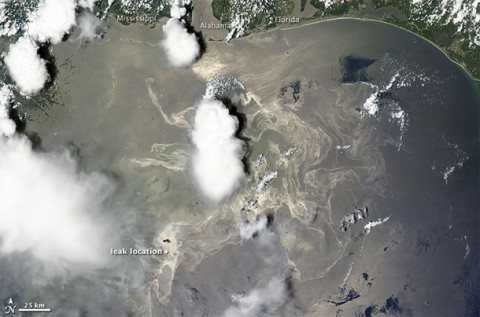 Meanwhile, the broken oil well was uncapped this morning and currently is spewing oil uncontrollably.  The cap had to be removed after BP engineers drove their submarine into machinery being used to clean up the fuel. It's not a bumper car, Einstein!
No word on when the cap will be put back on, or if it will be put back on.
More details after the jump, plus something to hopefully keep us all sane.
MSNBC reports:
Engineers had to completely uncap the broken oil well spewing into the Gulf of Mexico Wednesday after an undersea robot bumped into machinery being used to collect the spilled fuel. Hundreds of thousands of gallons more poured into the water as crews scrambled to replace a critical component.

The mishap left nothing to stem the flow of oil at its source. A camera recording the well showed huge clouds of black fluid coming out of the sea floor. It was not clear how long workers would need to replace the cap, which took weeks to install.
In addition, tarballs have washed up in Pensacola.
And two clean up workers died today, one of a self-inflicted gunshot.
We're all still waiting to hear what's happening with the Obama Administration's six month moratorium on offshore drilling. Good luck in the Fifth Circuit is all I've got to say.
Hopefully that Xanax or martini is kicking in for you just about now; if not, here's a moment of cuteness, also courtesy of Dodger.
A mountain lion cub found in the Santa Monica Mountains.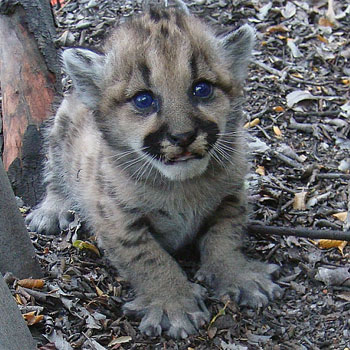 And in other good thoughts to keep us all from falling into complete despair over the spill, the US drew Ghana, 2nd place in their division, for the next round of World Cup games. Limeys are playing Germany.  US is on Saturday at 11:30 am PDT/2:30 pm EDT/20:30? Beesko time.  And Stinque's Hottie of the Day scored today's winning goal!
Add a Comment
Please
log in
to post a comment