The Gulf is Dead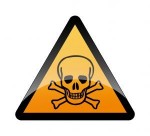 … and if the oil makes it around the tip of Florida and up the Atlantic Coast, and then heads for Europe?  A global depression and food shortages, we think.
Shrimpers who were exposed to a mixture of oil and Corexit dispersant in the Gulf of Mexico suffered severe symptoms such as muscle spasms, heart palpitations, headaches that last for weeks and bleeding from the rectum, according to a marine toxicologist who spoke issued the warning Friday on cable news network.

Dr. Susan Shaw, founder and director of the Marine Environmental Research Institute, described the symptoms during a CNN broadcast on Friday. Dr. Shaw said that after personally diving the oil spill herself, which she'd chronicled in a widely-publicized essay in late May, a "very fiery soar throat" plagued her after inhaling the fumes.

She specified that stories shrimpers had told her were from when BP was deploying "the more toxic" Corexit 9527. BP has allegedly switched to Corexit 9500.
Add a Comment
Please
log in
to post a comment