How To Speak Australian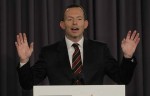 Opposition leader Tony Abbott, in run-up to today's election over in Oz:
I am always very conscious of trying to avoid being a burden on the taxpayer and I would try not to do anything voluntarily that would add to the burdens on the taxpayer.
Mitt Romney.
[slamming down of cold oil can of Fosters, with appropriate sound effects]
Beer.
[Yeah, I tried really hard to come up with something funny.  Maybe it worked.  But it almost certainly didn't.  Come on — I know jack squat about Aussie politicking.  Give me some credit for trying.]
Anywho: The Battle For Wagga Wagga, Kalgoorlie And Several Other Towns With Funny Names closes up shop at 1800 in Australia, which (in U.S. American) is around 1030 on Wednesday or something. (Actually, it would be 0400 Saturday, Eastern War Time.)  Bruce (pictured above) is running against a Sheila — given name is Julia Gillard — who is the prime minister and running for a full term for the Dirty Fucking Hippie Party down there.  Which is nice.  Polls suggest a hung parliament.  It seems to be all the rage; the Pommies sure have made it look fun with David Cameron, Nick Clegg and pals tripping over themselves to hang on to power.
So, like I said: I know nothing about this.  Any actual insights are most welcome in the comments.  Or you can just talk trash about Aussies and their inability to beat USA! USA! USA! in swimming.  (Because we are AMERICANS — that's why.)
ADD: Updates from Oz media that is not controlled by News Corp., here.
Add a Comment
Please
log in
to post a comment