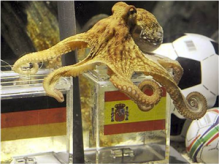 It's not quite tentacle porn, but as predicted by Paul the Psychic German Octopus, Spain beat Germany in today's World Cup action.
So your team just lost the quarterfinal of the World Cup, what do you do?
If you're German midfielder Bastian Schweinsteiger (say that one three times fast), you cry, then like a man, dry your tears and take off your shirt to win Stinque's World Cup Hottie of the Day award!
The tears: