World Cup Hottie: Arrivederci Edition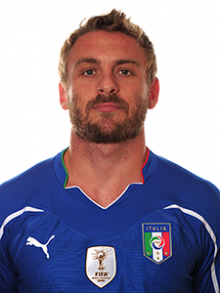 In today's World Cup action, the returning champions Italy – who in my opinion never should have been in the 2006 finals – were sent packing back to Rome after losing to Slovakia by a score of 3-2.
This means we won't have the smoldering Italians like nekkid Fabio Cannarvo to feast our eyes on anymore.
Nor will we have another hot Italian mess, Daniel DeRossi, who is mercurial in attitude and likes to take his clothes off on the field. And I'm not talking about his jersey, either.  And so he's today's World Cup Hottie of the Day. I'm not a big fan of straggly facial hair, but it has its place.
He is one of the up-and-coming players for the aging Italian team, and viewed as a future captain of the national team. He plays for Roma in the Italian premier league. He scored one of Italy's few goals, in their game against Paraguay.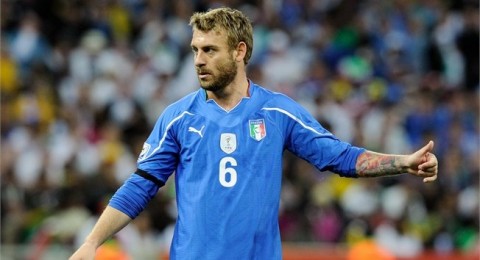 He's a player who alternates between hot-headed temper tantrums on the field and displays of sportsmanship. To wit:
In the 2006 World Cup game against the U.S., DeRossi was thrown out of the game with a red card after he elbowed Brian McBride in the face, resulting in McBride going off the field bloodied and needing three stitches. DeRossi was ordered to not play in the Italians' next four games.  However, he went to McBride after the game, apologized profusely, and McBride called him "classy" for doing that, as most players never apologize for on-field tussles and injuries.
Also in 2006, in a club game, he scored a goal by a ball coming off of his hand. The referee did not see it happen, and awarded Roma a goal. DeRossi went to the referee and told him what happened, and the goal was disallowed.
He also has a tendency to start taking his clothes off after games. Here he is celebrating after a 2009 club game against Lazio: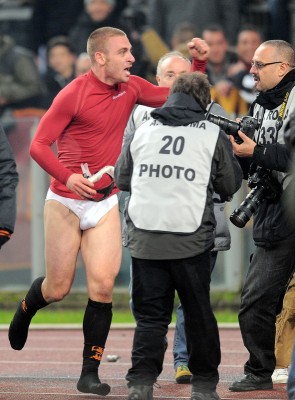 Mamma always said to wear clean underwear.
Add a Comment
Please
log in
to post a comment