World Cup Hottie: Demy, Oh My!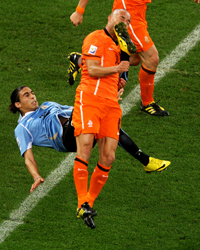 In today's quarterfinal action of the World Cup, Holland beat Uruguay 3-2. Today's World Cup Hottie wins Stinque's title for being a bad ass who wasn't faking an injury, namely, he got kicked in the face and briefly passed out. Luckily, X-rays show that Holland's Demy de Zeeuw did not break his jaw, but it did put a scare into the Oranje.
Holland will play the winner of tomorrow's Spain v. Germany match for the championship on Sunday.  Uruguay will play the loser of tomorrow's match on Saturday for the third place prize.
Sadly, no Japanese tentacle porn, but miscellaneous Dutch man-love and female fans after the jump.
Here's another angle of de Zeeuw getting kicked in the face: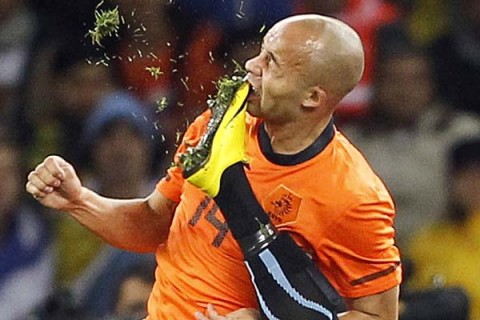 Here's what his face looks like when there's not a Uruguayan player's boot in it. Is it just me, or does he have plucked eyebrows? Between this and the waxed armpits, the manscaping of soccer players is going too far: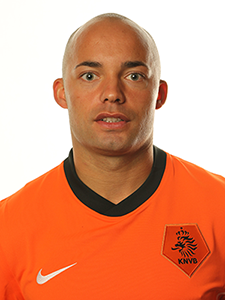 Meanwhile, the three goals scored by Holland means lots of chances for some manlove sandwiches: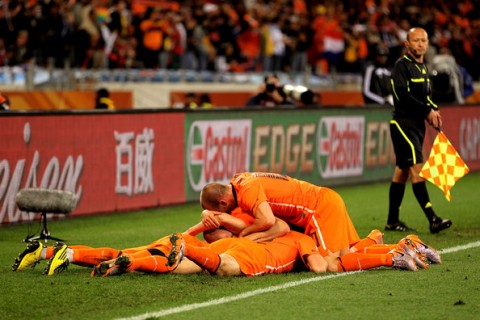 And some interesting contortions. That's prior WCHotD Sneijder upside down: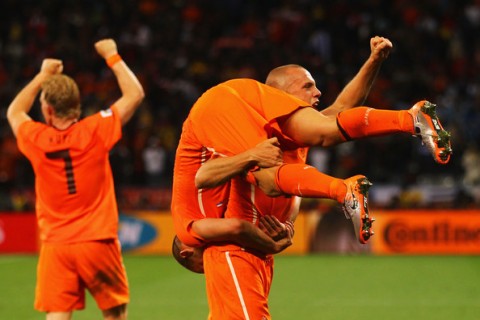 And this is Giovanni van Bronckhurst on the left, who was runner-up for today's Hottie of the Day award and scored the first goal for Holland. He's hugging our friend Wesley Sneijder.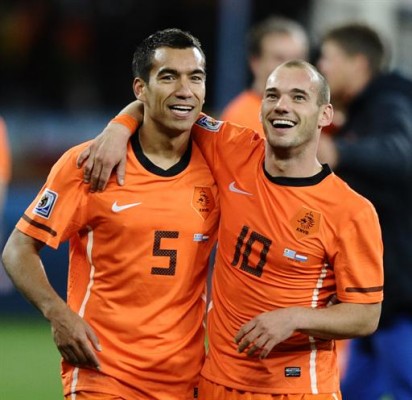 And finally, for the str8 boys, a Dutch fan.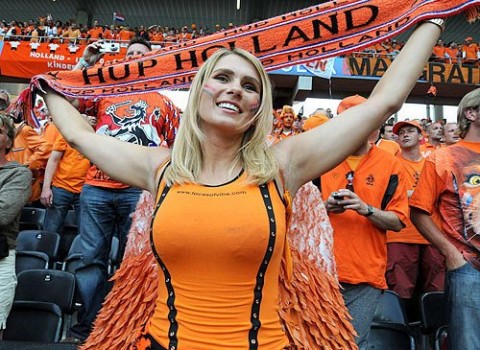 Tune in tomorrow for the results of the Battle of Paella v. Sauerkraut.
Add a Comment
Please
log in
to post a comment