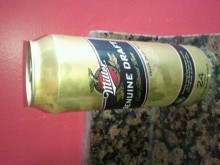 So, here we are.  After sixteen months, it is all on the line tonight.  So time to settle in with an oil can or three of some Union Made macrobrews from Wisconsin, and watch Ed Schultz get all Schultzy.
The early indications are that turnout is absolutely massive.  Hell, Dane County (home to dirty fucking hippies in Madison) reported a possible turnout of 119% at one point.  (This, of course, set all the voter fraud goons off.  Someone had to gently explain to them that same-day registration may actually make such a thing possible.  But, of course, gentle explanations are not terribly effective.)  The Dane County election overseers had to clarify the 119% number a bit, by saying it was simply a projection, and that absentee votes were goosing the projection models a bit, but still — this looks incredible from here.
Anyway.
IN THE BLUE CORNER, THE CHALLENGER, THE FIGHTING PRIDE OF MILWAUKEE, THE HONORABLE MAYOR OF CREAM CITY, TERRIFIC TOM BARRETT! (yea!) BARRETT!
IN THE RED CORNER, THE REIGNING, DEFENDING, SUPER-LIGHTWEIGHT CHAMPION OF THE RIGHT…. THE WAUWATOSA WANKER…. SCOTT WALKER (boo!) WALKER!
And, like any other good championship fight, there is an undercard.  Four State Senate seats on the line. As things stand, if there is one pick-off for Team Blue, the unified stranglehold on state government that GOPers now enjoy will be all gone.  Of note, Scott Fitzgerald — one of the orchestrators of the right-wing movement in the Legislature last winter — is in a surprisingly tough fight.
Full-blown LIVEBLOG action, post-jump.