Yeah, This Will Work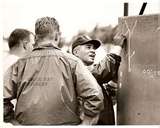 And now the whole thing in Wisconsin has gone supernova in the last couple of hours.
The premise of the Flying Fourteen was that they could deny quorum, because you need three-fifths of the chamber present for fiscal bills.  The union-busting stuff that has caused all the ruckus was inserted into a budget bill (on the insistence by every Republican in on the thing that it was necessary to fix the budget mess); thus, the Democratic Senators could get out of the state and block the bill.
This afternoon, the Republicans in Madison decided to create a new bill with only those union-busting things in it.  And then they voted on it. — which apparently sends the thing to conference committee and, reportedly, quick passage as an agreed-upon bill by both chambers tomorrow and signature by the Governor before anybody can do a damn thing about it. [EDIT — it was first passed by a conference committee — which was caught (devastatingly) on tape through the Wisconsin version of C-SPAN — and then immediately sent to the Senate, which voted on it.  Last stop before Walker is a vote by the Assembly tomorrow morning.  That should be must-see teevee.]
The protests, which had to be honest waned a bit this week, started up again almost instantaneously.  The crowd, from what little I've gleaned from this, looks to be absolutely livid.  There was also a report that the hold-out Senators decided to come back to Madison to fight this, but then a decision in mid-trip to turn around.  (No confirmation on any of this, naturally.)
All sorts of angles here — the first of which has to do with Scott Walker's claim that this was related to the fiscal health of the state, but then changing tack in order to ram it through after three weeks of pure legislative chaos.
There will be more to this as the night moves along, but it is safe to say this: WOW.
Add a Comment
Please
log in
to post a comment