Showdown At The O-Koch Corral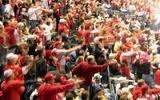 OK, you lovely cynics.  After a three-month absence (oh man, work has just been peachy in that time), I'm back.  And not a moment too soon, for we got ourselves some Wiscocentric denouement tonight.
The read at this early stage is that turnout has been positively massive.  But that could cut both ways.  The energy on both sides is probably at a fever pitch (whipped up no doubt by… excuse me…. 33 MILLION CLAMS shelled out for the nine recalls), so more than half of the turnout could be Wisconsinites angry at unions for, well, whatever foul they may have committed.  And "more than half" is the name of the game in elections, as you know.
So, the p0lls close — nominally — in 15 minutes.  (Polls can stay open so long as people are in line — a rule that approximately 7,000 lawyers know by heart and are poised to enforce to their hearts' content.)  Then, the story shall unfold before you, old-school OPEN THREAD style.
(Note: picture above, right, is a scene from a Wisconsin hockey game.  Hockey is popular in Wisconsin, where winter is about six weeks away.)
ADD: The Milwaukee Journal-Sentinel has the best live-results page in the state, and therefore that page is linked…. HERE.
Add a Comment
Please
log in
to post a comment