CHEDDAGEDON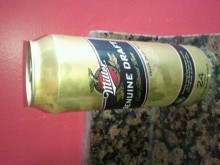 So, here we are.  After sixteen months, it is all on the line tonight.  So time to settle in with an oil can or three of some Union Made macrobrews from Wisconsin, and watch Ed Schultz get all Schultzy.
The early indications are that turnout is absolutely massive.  Hell, Dane County (home to dirty fucking hippies in Madison) reported a possible turnout of 119% at one point.  (This, of course, set all the voter fraud goons off.  Someone had to gently explain to them that same-day registration may actually make such a thing possible.  But, of course, gentle explanations are not terribly effective.)  The Dane County election overseers had to clarify the 119% number a bit, by saying it was simply a projection, and that absentee votes were goosing the projection models a bit, but still — this looks incredible from here.
Anyway.
IN THE BLUE CORNER, THE CHALLENGER, THE FIGHTING PRIDE OF MILWAUKEE, THE HONORABLE MAYOR OF CREAM CITY, TERRIFIC TOM BARRETT! (yea!) BARRETT!
IN THE RED CORNER, THE REIGNING, DEFENDING, SUPER-LIGHTWEIGHT CHAMPION OF THE RIGHT…. THE WAUWATOSA WANKER…. SCOTT WALKER (boo!) WALKER!
And, like any other good championship fight, there is an undercard.  Four State Senate seats on the line. As things stand, if there is one pick-off for Team Blue, the unified stranglehold on state government that GOPers now enjoy will be all gone.  Of note, Scott Fitzgerald — one of the orchestrators of the right-wing movement in the Legislature last winter — is in a surprisingly tough fight.
Full-blown LIVEBLOG action, post-jump.
1940 (Central War Time): One thing that has improved?  Ed Schultz's makeup.  Back in February of last year, it looked like it was pasted on with a paint roller.
1946: We will note here that the problematic election chief in Waukesha County (read: Walker's base) is supposedly out of commission for tonight.  I say supposedly, because there is talk that she still has her all twenty fingers and toes in this particular pie.
2000: Tick, tick, tick…. BOOM! The gun goes off, and polls are formally closed.  MSNBC reporting "too close." No shit.  Meanwhile, polling places in Milwaukee were down to TEN ballots remaining in some places.
2006: Twitterstan reporting that CNN has an exit poll showing it being 50-50 between Walker and Barrett.  We knew this going in, but — this is going to be a loooooong night.
2013: More exit polling fun — Union participation is +7% from 2010, and its Black Eagle 54:42 Mittens.  Hmmm.
2014: First real numbers have Walker 600 votes to the good, at 57:42.  But 1% in.
2019: A real odd split just now: Walker is +800, but the Dem running for Lite Gov, Mahlon Mitchell, is +3000.  Still real early, but that is confounding.
2025: I'll tell ya something — I was a poll judge in Madison in 2002-2003.  (Yes. I was, for a year, a little old lady.  I was in college. They paid me. I needed money.  Deal.)  You gotta feel for those guys tonight — they have put in a whale of a day.
2030: Keep in mind: when you are cursing Waukesha County, it's pronounced WAH-keh-SHAH.  Not WOW-key-shah.  Kind of an insider tip.  But that's what you get in the Stinque Debating Society and Chowder Club.
2034: Last numbers are wooftastic — Walker 59:41, with 31k vote lead and 8% in.  Probably from out-state counties, one would have to think.
2038: Now at 10% in and Walker is open a strong lead — 61:39 on the percentage, 50k in real votes.  Hope Barrett is a closer.
2040: Ah, here's something — Great Orange Satan is repeating Milwaukee Journal-Sentinel in reporting the gender gap.  Wimmin are breaking for Barrett HARD — it's Barrett 56:42 Walker in the Distaff.  The spread (rimshot) was 3 points in 2010.
2048: Markos's House O' Fun now reporting that Scott Fitzgerald — one of the three members of the iron triangle of SUCK — will likely escape recall.  Also, it may be Walker 52:48 in the end, per recalculated exits. Ruh-roh.
2050: OH WOW — Walker projected to survive, per MSNBC.
2053: That was REALLY early.  I'm not convinced totally — the exit polls were wrong before, as we'd all remember.  I mean, if the gender gap is +12 for Barrett?  That screams problems with the numbers.  The models may be off.
2056: You know that Ed had the excuses up and ready — John Doe investigation, money money money, etc.
2100: I'm not being pie-in-the-sky here, but I want to see some real numbers from Madison and Milwaukee before putting this to bed.  One thing is for damn sure — Walker 60:40 Barrett is not how this is going to end.
2110: I'm looking at the Milwaukee Journal-Sentinel's website, and Milwaukee County is 8% in.  Dane County (Madison) is 31% in.  This call could be Floridaesque.
2121: More from Milwaukee Journal-Sentinel: as of now, Dane (Madison) is still at 31% in, Milwaukee is 12% in (and Barrett has closed in recent minutes), Racine is 12% in, Sheboygan is 19% in, LaCrosse is 10% in.  That's Barrett Country. For Walker?  WAU-kee-SHAH is 48% in, Fond du Lac is 87% in, Winnebago is 67% in, and Brown (Green Bay) is 91% in.  Hold the fucking phone.
2130: NOOZ YOU CAN UOOZ — Barrett is not conceding, as votes are still being cast. Developing HARD.
2155: The nets are calling three of the four State Senate seats for the GOP.  One (in Racine) is still out.
2201: Ed Schultz is all-in on Citizens United hammering.
2207: John Nichols (a homie from Madison) is suggesting that this result is believable.  I'm getting closer to calling this for myself.
2211: Tom Barrett is conceding now.  Damn.
2215: Well. Now then: let's see what Walker says in response.
2219: Dane County (Madison / dirty hippies) is now 89% in.  And Walker's still up 11%.  The Stinque Decision Desk (finally!) is prepared to make a call.
And, as a good former Wisconsinite, I can now say that (a) I am out of booze and (b) I'm therefore done for the night.  Thanks to all.  (Sorry that I will not be liveblogging Scottie's victory speech.  I just don't have the strength.)
Add a Comment
Please
log in
to post a comment