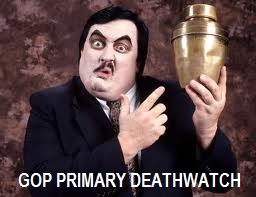 People have been trying to figure out who would be the Anti-Romney in the Republican field since forever.  Yet, there was one guy who was the undisputed Anti-Nutjob. There was one guy who stood up and, without saying it explicitly, declared what we all knew to be true: "you people are insane."
It's a weird tag on the guy. By most observations, Jon Huntsman, who according to reports is dropping out and set to endorse Mittens, was as conservative on most things as the others.  But the fact that committed several cardinal sins — serving the Obama administration, suggesting that climate change might actually have some science behind it, etc. — doomed his run, almost from the start.
The fact that Huntsman's Ticket To Ride from New Hampshaah was to a political hospice surprises absolutely nobody.  But the departure is somewhat sad, nonetheless.  Some people thought that his dog of a campaign was cute — acting like it was people and everything.  They'll be disappointed, surely.  Meanwhile, us dirty hippies are left with Mittens, Frothy, Newtie, the leader of the rEVOLution, and (at least for the next week) Ranger Rick as the only real possible opponents for Black Eagle.  If we were forced to choose between any of those clowns (should The Worst happen), we would take Huntsman over any of them, in a heartbeat.  Thus, the last chance for somebody with at least a tenuous grip on reality taking the GOP nod has come and gone.
And so: good night, sweet prince.  Let sane, rational angels sing thee to thy mansion.