Crazy Can Only Get You So Far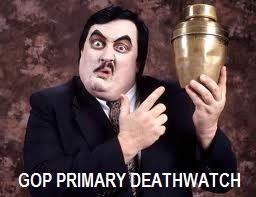 Well, we lost a few guys before the election season properly started.  Seeing as The Donald, Sarah Plain and Dumb, Timothy the Dull, and Herman Cain were late scratches, we cannot really say that they were felled by the electorate.
Ah, but we can say hail, and farewell, to Michelle Bachmann tonight.  Born in Iowa, she was the only one from a state which touches the Hawkeye State, and somebody who was banking on the tea partiers and thumpers and disheartened Mama Grizzlies to bring her across the line.  And she looks like that she has converted her straw poll win into… sixth place.  Thud.  (Noted: the votes are still coming in, but it looks uniformly awful.)

And so, the Stinque Decision Desk is prepared to call it.  Shelly's torch — lighting, incandescently, her bid to make Black Eagle a ONE! TERM! PRESIDENT! — will have to be carried by another sucker.  And thus she can go back to not sleeping with her husband, and to railing against energy-saving lightbulbs and HPV vaccinations from the august halls of the House of Representatives.
We come not to praise Bachmann, but to bury her.  So let's do it.  And anything worth doing is worth doing right.
[UPDATE (2345 ET): Bachmann, channeling her inner zombie, vows to fight on.  No idea when the money runs out, but I don't think she makes it to South Carolina.  Book it.]
Add a Comment
Please
log in
to post a comment