Would You Like To Make A Final Statement?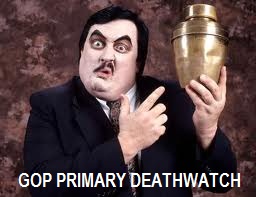 Interesting.  You'd think that Shelly Bachmann would give it up, losing badly in her backyard and all.
It still says here — I insist — that Bachmann is done.  Anybody donating money to her at this point would do better at a slot machine.
But someone who doubled her up in the vote total has been strapped to the gurney.  Yes, fans: Ranger Rick Perry is going to spend more time cutting his family's budget.  (Officially, he's going to pray about the best way forward.  Given the results when he prayed for rain, you'd think that the Big Fella has heard enough from Rick for one lifetime.)
You have to admit, though, he was kind of responsible for the crystallizing moment of the race so far, when he drew applause for killing more prisoners than anybody else.  That, I must say, was a genuinely shocking moment, which you don't usually get from a presidential debate nowadays.
For that, Rick, we say thank you. And fuck you.
Add a Comment
Please
log in
to post a comment