Two — and only two — events on the docket.  There's the men's 50k in cross-country.  There may be a debate about who the fittest men on the planet are — competitive swimmers and water polo players, marathoners, triathaloners, etc.  But these guys are in the conversation.  It's somewhat of a pity, however, that watching XC on the teevee is like watching paint dry.  The exception to this, however, is the last three or four kilometers, in which there is invariably three or four guys making a mad dash for the line, together.  So something to scan through at least.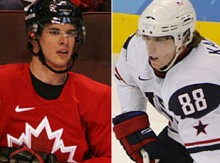 And then there's the hockey game.  Canada has always played on the edge of total disaster (losing 5:3 a week ago to the U.S. Americans, damn near blowing a 3:0 lead against Slovakia in the semis.)  If anything, this has juiced the game this afternoon — 1500 ET on the Mothership, live to all time zones (including perhaps Hawaii)– up north.  And God knows NBC has pimped this game relentlessly in the last 48 hours.
For Team USA-USA-USA, Patrick Kane had himself a breakout performance against the Finns on Friday.  (This, to be honest, is not totally impressive — I could have had a breakout performance, the way Kippy was playing in net.)  He hadn't had a good performance before then.  So he may be peaking at the right time.  Also watch Zach Parise and Brian Rafalski — who have been having a whale of a tournament.  And then there's Ryan Miller, who's stood on his head for the last two weeks (a .954% save percentage, and a 1.04 goals-against average — that's a pretty damned good run).
Should be a hell of a game.  I will be splitting time between here and the commentary playpen/game-thread on the Blackhawks' fan blog, Second City Hockey (d/b/a Sec 326 Bureau Chief).  Join me there, and here.  (Forgive the slow-speed on Second City Hockey — there'll probably be over 700 comments unless they break the thread into periods.)
Full analysis of everything tomorrow.  Enjoy the game — seriously, it is Appointment TV.