Day Sixteen — The Joys of DVR
Yesterday was madness.  Work / firewall at work prevented me from watching USA v Finland in real-time.  And so I imposed on the workmates what I referred to as the Cone of Silence.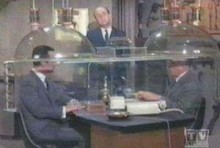 Trouble was that I — not being a person who has ever watched an episode of Get Smart — had no idea that the Cone of Silence was totally useless.  And thus rumors about a decent start began to trickle through.  And yet…. I was all the same uttlerly dumbfounded at the 6-spot Team USA-USA-USA laid on the Finnish squad in the first period.  (The boys are simply not that overpowering.)
Still: this was the whole Olympics in the Internet Age wrapped up in a nutshell — total insulation from news as it happens is literally impossible.  Which makes the question of who will pick up the teevee contract for 2014 forward somewhat curious.  Rumors are that its down to Fox (FX, Fox News, Fox Business (sorry — they won't be around for much longer) and tons of regional cable sports nets that can be commandeered) and ABC/ESPN (ESPN2, ESPN Classic, ESPNU, ESPN Deportes).  But in four years, the internet will probably be able to throw snow or chlorine-infused water right through your screen.  Steve Jobs is working on it right freaking now.  It'll be like Smell-O-Vision, only messier.  (The implications for viewers of teh pron will of course be staggering.)  So: prestige v total irrelevance — place your bets!
Anyway: the balance of the Games are all prologue to USA v Canada II — The Reckoning — on Sunday afternoon.  Competing for interest today?  The big fellas on the track for four-man bobsled, men's slalom, and speed skating pursuit (more hardware for U.S. Americans is assured).  The gold medal game of men's curling (Canada v Norway and their fancy pants) is over on CNBC at 1800 ET.  Slovakia and Finland go for bronze at 2200 ET on MSNBC.  And the exhibition gala for figure skating — which means only that figure skating finds a way to be even more useless.
Add a Comment
Please
log in
to post a comment