Shark Tank FAIL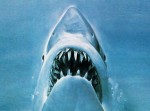 Sort of like their economy:
(NEWSER) – A Dubai aquarium and shopping mall were evacuated yesterday when a mammoth shark tank cracked and gushed water in downtown Dubai. The 2.5 million gallon tank, promoted as an "indoor ocean," holds some 33,000 sea creatures, including hundreds of sharks. Workers carrying life jackets rushed to the scene, and the glass panel leak was quickly plugged. The fish were not in danger, reports the BBC. The aquarium is located at the foot of the world's tallest building, which was closed this month after an elevator accident.
Video after the jump:
That's a frightening place, and for lots of reasons.
Add a Comment
Please
log in
to post a comment