Tiny Bubbles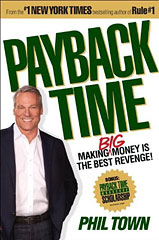 Title: "Payback Time: Making Big Money Is the Best Revenge!"
Author: Phil Town
Rank: 6
Blurb: "Payback Time's risk-free approach is called 'stockpiling' and it's how billionaires get rich in bad markets. It's a set of rules for investing (not trading but investing) in the right businesses at the right time — rules that will ensure you make the big money."
Suggested Tags from Similar Products: "investing", "finance", and "garbage".
Customers Also Bought: "Jim Cramer's Stay Mad for Life: Get Rich, Stay Rich (Make Your Kids Even Richer)," by Jim Cramer and Cliff Mason (published December 4, 2007)
Footnote: We've been informally tracking the Amazon Top 100 for almost a year and a half, and we don't recall seeing a get-rich-quick book recently. So we'll take this as an informal leading indicator that Americans are almost ready to play the casino again.
Buy or Die [Stinque@Amazon kickback link]
Add a Comment
Please
log in
to post a comment