Day Fourteen — Ladies' Night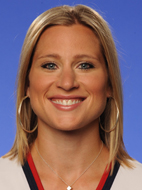 This is Angela Ruggiero.  You don't know her, but she's a college graduate, and an American citizen!  (Quote courtesy of Slap Shot — best movie involving Sport ever made.)  Anyways: she's up for a gold medal (her fourth Olympics, her fourth medal — which is pretty good) in women's hockey.  Game is this afternoon — USA v Canada (again?) at 1800 (ET) over on MSNBC.  These two teams were and are kinda sorta the best teams in the women's draw.  Observe:
USA wins — 12:1 (China), 13:0 (Rooskies), 6:0 (Finland), 9:1 (Sweden).
Canada wins — 18:0 (Slovakia), 10:1 (Switzerland), 13:1 (Sweden), 5:0 (Finland).
Yikes.  (In other news, Angela just got elected to the International Olympic Committee, which is nice.)
Meanwhile, there's the ladies' free skate tonight, as well as more jumping and skiing and whatnot.  Curling semis as well, with China v Sweden and Canada v Switzerland for the women, and Norway v Switzerland and Canada v Sweden for the fellas.
But also: Lindsey Vonn and Julia Mancuso don't like each other very much.  Noted.
Add a Comment
Please
log in
to post a comment