Day Eleven — A Breather
Beyond the ice dancing finals, there really is not that much on the docket today.  Which is a good thing, because yesterday was nuts.  Not the least reason why is that USA-USA-USA v Canada game.  That lived up to the billing.  A positively frenetic game.
And it isn't over for USA Hockey.  The wimmin positively embarassed Sweden in the semifinal this afternoon, 9 to 1.  Canada v Finland right about now on CNBC.  Right now, CAN 3:0 FIN in the late second period.  If that holds up, it will be USA v Canada — another headline matchup… this time, for hardware.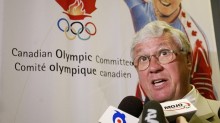 So some time for evaluation.  And the Canadians finally own up to the fact that — no — they will not top the medal table, notwithstanding their fancy-shmancy slogan.  "Yes We Can" is in a run for its money against "Own The Podium" as the worst empty saying since "Mission Accomplished."
Meanwhile: Bode Freaking Miller has a matched set of medals to take home to New Hampshaah.  Maybe this will make him into something less than a prick.  Time will tell.
Add a Comment
Please
log in
to post a comment