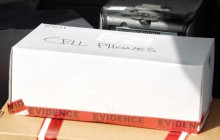 Nobody can accuse San Francisco of having boring political scandals. Luckily for me I'm in the gay senate district, not the Asian senate district, of SF.
Innocent until proven guilty, and I don't think Sen. Yee was the original target of the FBI investigation, but holy hell:
State Sen. Leland Yee, an outspoken advocate of gun control and open government, was arrested Wednesday on charges that he conspired to traffic in firearms and traded favors in Sacramento for bribes – campaign cash paid by men who turned out to be undercover FBI agents.

Yee, a Democrat who represents half of San Francisco and most of San Mateo County and is running for secretary of state, was one of 26 people ensnared in a five-year federal investigation that targeted Raymond "Shrimp Boy" Chow, a notorious Chinatown gangster who had claimed to have gone straight, officials said.
The charging docs read like something straight out of Hollywood. Read more »