"I Am Not a Sixth Grader"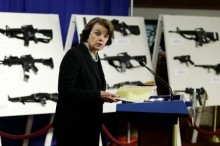 Snap! Go DiFi, tell that little punk where to stick it. From the Ess Eff Chronicle:
Sen. Dianne Feinstein, a 20-year veteran Democrat, clashed fiercely with Tea Party-backed newcomer Ted Cruz of Texas, when the freshman began lecturing the Californian about the Constitution during a debate over Feinstein's assault weapons ban. … The clash was reminiscent of an exchange Feinstein had nearly two decades ago with the since disgraced Larry Craig, an Idaho Republican, who lectured the "gentle lady from California" on firearms during debate over Feinstein's successful 1994 ban that expired in 2004.

No issue is more emotional for Feinstein. She became mayor of San Francisco as a result of the assassination of George Moscone, and was the first to discover supervisor Harvey Milk's body, slipping her finger into the bullet hole as she sought a pulse. […]

Cruz asked Feinstein whether she would "deem it consistent with the Bill of Rights" if Congress did the same thing to the First Amendment that she contemplates with the Second Amendment. Her assault weapons bill bans certain weapons, so Cruz asked whether Congress could ban certain books.

The Stanford-educated Feinstein replied, "I am not a sixth-grader," and said her bill specifically exempts 2,271 weapons. "Is this not enough for the people of the United States?" she asked? "Do they need a bazooka?"
Clip of DiFi and Cruz after the jump.
Add a Comment
Please
log in
to post a comment