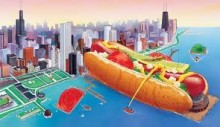 Mind you, Chicagoans can give a rat's ass about the GOP primary. And they could also give another rat's ass about the Cook County Democratic primary, as it is a done deal for the slated types, as is normal.
But it's time for the supposedly-moderate Collar Counties to face down the mouthbreathers south of I-80. It says here that this is Romney's to lose, but we shall see. Jibber jabber away about the Illinois Primary if you'd like.
Me? There's a Blackhawks game on teevee. so I'll check in periodically to make sure everything is in its proper orbit and such. Maybe.