Not Riding Off Into the Sunset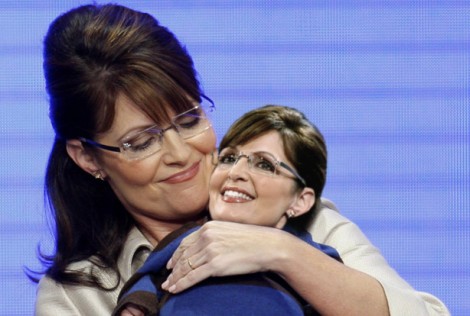 This might be the dumbest thing written on the internet last week:
I thought of another strong, gutsy, bold, stand-on-principles hero, Sarah Palin, in her own modern day version of High Noon. Sheriff Palin rode into America Town on a white horse with conservative guns blazing and saved a dead McCain campaign.
The douchebag that wrote the piece also wrote the Teabagger Anthem. Plodding along:
Outlaw Obama and his posse, the hate filled liberal media/Democrat gang, came to town a gunnin' to politically eliminate Sheriff Palin. They ambushed her at Miss Katie Couric's CBS saloon. Though wounded numerous times, Sheriff Palin survived.
Never mind that the wounds were self-inflicted.
But in the spirit of what has made America Town great, an uprising is a brewin'. A huge conservative posse is building daily. Our first battle will be in 2010 to win back America Town's House and Senate. Then, in 2012, God willing and the creek don't rise, Sheriff Palin will lead us to victory in the battle of Little Big Washington DC. Years earlier, another great lawman cleaned up America Town, Sheriff Ronald Reagan.
Ah, the good old days.
Add a Comment
Please
log in
to post a comment