Ron Paul Campaign Engulfed by Eyebrow Scandal.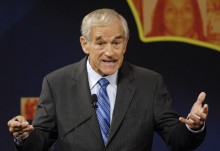 Has the detestable homunculus from Texas been unmasked as a prettified himbo wannabe?
If, like me, you were transfixed by the mystery of his double eyebrow during the last Republican 'debate' (Romney totally won!) today's New York Times breaks the story: was it an eyebrow toupée that came adrift? How can a man with no eyebrows lead the Free World?
Add a Comment
Please
log in
to post a comment