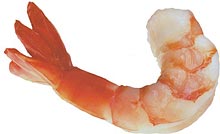 The Human Rights Campaign has released its list of gay-friendly companies…
Whether you are buying a cup of coffee or renovating your home, by supporting businesses that support workplace equality you send a powerful message that LGBT inclusion is good for the bottom line.
…allowing the Friendly Bigots over at WorldNetDaily to turn the list upside down:
The only restaurant giant with a zero score not pushing "gay" causes is OSI Restaurant Partners, which operates Bonefish Grill, Carrabba's Italian Grill, Cheeseburger in Paradise, Fleming's Prime Steakhouse and Outback Steakhouse.
Bonefish Grill isn't part of the Homosexual Agenda? So if we order a delicious, succulent, mouth-watering Bang Bang Shrimp, we won't catch anything?