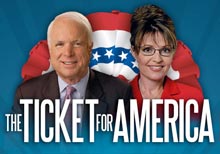 Lacking some decent porn news to post later tonight, let's check in instead on a couple of ongoing political handjobs.
First up: John McCain, last seen aghast that Al Franken would cut off Douchebag Joe mid-douche:
I've been around here 20-some years. First time I've ever seen a member denied an extra minute or two to finish his remarks.
You don't wave a red flag like that in front of an army of pissed-off bloggers without somebody finding the dirt:
The PRESIDING OFFICER. The Senator's time has expired.

Mr. DAYTON. I ask for unanimous consent that I have 30 seconds more to finish my remarks.

Mr. McCAIN. I object.
October 10, 2002. But wait — there's more! What was at issue? Nothing more than the Iraq War authorization.